Many people believe that escort and sex services are the same. I was sure it wasn't. That an escort is a companion and nothing more.
The customer "books" a girl for a certain time. The reasons for contacting an escort agency can be different. Someone does not want to waste time on a serious relationship, but one must look solid in the eyes of colleagues and partners. Someone seeks to observe business etiquette at an important event, that is, come with a couple.
The demand for such services is great and if they negotiate some details with the client, then the meeting can end with sexual pleasures. Moreover, 70% of customers want more than just an escort.
At the same time, new clients feel anxious when ordering an escort meeting. Many stop a session halfway because they are nervous, others are afraid of being arrested (sale of sex is criminalized in some countries). Some guys do not know how to behave with an escort girl and therefore lose the opportunity to get an incredible sexual experience.
I don't want you to miss the opportunity to spend time in a new way simply because you were too anxious! In this article, I will tell you the secrets that will help you to meet an escort and enjoy the time spent together.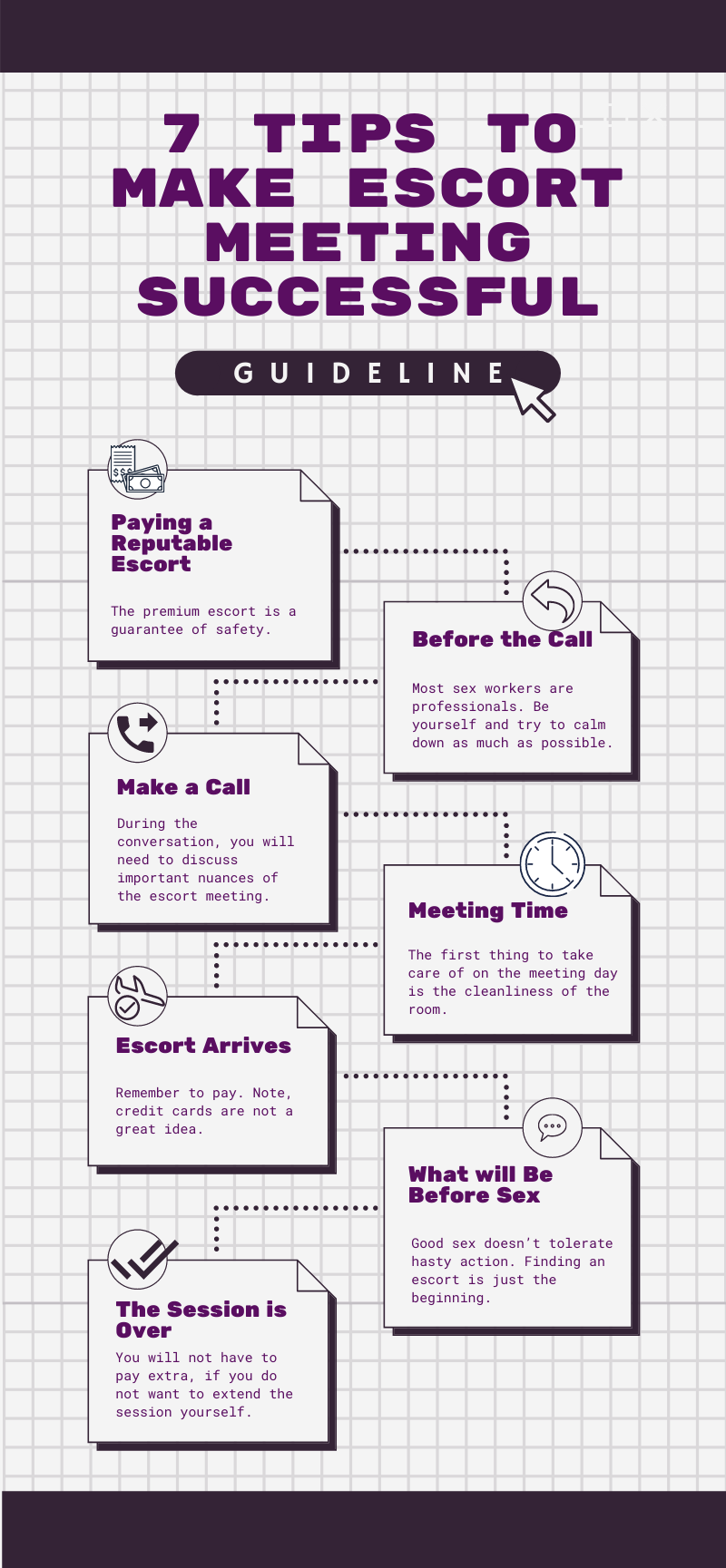 7 Tips to Make Escort Meeting Successful
Let's assume you've found an escort service, but it's your first time, and you don't know how to arrange a session. The first call is always exciting. Don't scare the girl – follow the tips below!
Paying a Reputable Escort
I believe that finding an escort and booking a reputable one is worth paying $500- $3000 just for an hour. The premium escort is a guarantee of safety. Cops concentrate on the girls who are seeing multiple men a day. They will not waste time with girls, whose services are very expensive, and who monitor their safety and check the client before the meeting. 
That sex worker who offers you an enticingly low price for their services can be a police lure. The arrest is not what you expect from meeting an escort, so don't skimp on paying for her services.
It is also worth checking the escort's reputation. Any reliable escort will have a page on social media platforms. Her page will not have explicit content. Networks such as Facebook and Instagram censor sex-related content. But she can maintain her personal account and will accept your application. So you can make sure she's posting frequently, which means she's not a scam, and meeting with her is safe.
The high booking price is a guarantee that your planned event will be perfect, and your companion will leave only the most pleasant impression of your meeting.
Before the Call
Review the laws in your area. Make sure you don't violate them because there are countries where escort services are illegal. If you buy sexual gratification, you must think about your safety. Reread the information about the girl. This will help avoid ridiculous situations.
Before calling, I advise you to calm down. Most sex workers are professionals. They know how exciting escort meeting is for you. Be yourself and try to calm down as much as possible. All people tend to be anxious, and these are normal human emotions.
Make a Call
Take a deep breath and think about what you need to know. Speak calmly and confidently. During the conversation, you will need to discuss important nuances of the escort meeting. Talk to the girl the way you would talk to other professional service providers. Do not force the girl to repeat information that you can read on the site. Her time is limited, and during the first call, your task is to discuss the details of the meeting.
Avoid code words, acronyms and do not ask about services you can get. You can discuss all this a little later, at a personal incall or outcall meeting. Offer a meeting time and find out if the girl is free that day. If your date suits her, she will agree. If not, she will offer her next free time.
Give her your full name, phone number, your address, or hotel room number. She is also worried about her safety and will want to check them out. Some girls are afraid of sexual assault, so they will check you. If you want to meet at her home, don't expect her to give the address right away. Be patient. She will provide all the information you need at the right time.
Meeting Time
The first thing to take care of on the meeting day is the cleanliness of the room and personal hygiene. If you made an appointment in a hotel room or at home, make sure it is tidy.
The room must be prepared, and the bathroom is clean. Both of you will freshen up in the bathroom before and after a good escort session. Place enough spare towels and personal care products.
Remember the "clean and tidy" rules. You'll make the best impression with fresh breath and body odor, well-dressed and clean shoes.
Your personal hygiene directly affects fetishes, which your escort can offer you. If you forget to shave and brush your teeth, she may reject you from taking certain steps. Even a little thing like a kiss might not be done.
Escort Arrives
When your escort arrives, give her enough time to relax. It would be nice to invite her to put her things down, drink some water. You can talk a little, do a tour of your house. Let her use the bathroom, show her where the room is. Let her change clothes or set out equipment she might need.
Remember to pay. Many girls prefer to receive payment immediately as an envelope of cash. Note, credit cards are not a great idea. Make a payment at the beginning of your session and proceed to the discussion of the full service the girl is ready to offer you. Remember not to start a meeting with kisses and hugs before you make payment. It will make her feel uncomfortable, and you will seem rude and wracking to her.
Calling the driver is an important safety measure, not just a hassle. The lady may let him know she is okay. Her own safety is what she thinks about at the beginning of your meeting. There are cases of sexual assault, so escort girls put their safety first – be tolerant.
What will Be Before Sex
To feel comfortable, offer an escort to take a shower. You can do this individually or even together. Such actions will only bring you closer and your stay will become comfortable. You will have to spend time getting to know each other. This is a kind of first date, where sexual activity will be at the end of the meeting.
Good sex doesn't tolerate hasty action. Finding an escort is just the beginning. It is important to show a little restraint and respect. Before you get naked, taking time to get to know each other. The best way to get sex happening is to follow her rules.
To make this acquaintance a regular date, use kisses and gentle touch. Don`t forget about flirty and long eye contact. Constantly ask what the girl likes and what she wants next. Talk about what you would like. You may want to take a break and drink some wine or champagne – this is fine and will only spice up your evening.
The Session is Over
Your escort booking will finish up with chatting, hugs, and light touches. You both wind down at this moment, and it is important not to spoil the good impression of the time spent together.
At the end of the meeting, allow time for your escort to pack up her belongings. If you're worried about running overtime, you can ask the girl how much free time you have left. Most often, they leave about 10 minutes to gather up and warn about this in advance. You will not have to pay extra, if you do not want to extend the session yourself.
Don't promise to meet regularly. Be polite and take the girl to her car. Leave pleasant and exciting memories of your meeting.
Final Words
Contrary to popular belief, the model of an elite escort in the modern world is not a silly girl who artificially brought her beauty to dubious perfection.
The status of an elite escort model presupposes the girl's natural charm, her ability to be an interesting and enthusiastic companion.
Good luck with finding just such an escort girl. And by following my advice, you can arrange a brilliant and safe meeting to feel an unforgettable experience.